Top 3 Ice Fishing Destinations for the Season 2014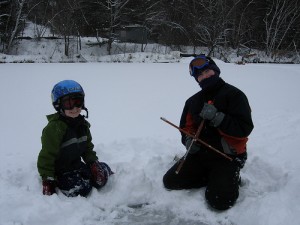 As winter approaches many people simply can not wait to get on the ice in Maine and get fishing. Maine continues to be one of the top ice fishing destinations because you can catch a nice variety of fish like bass, landlocked salmon, trout, perch, and cusk. You also have a choice of renting ice shanties, staying at a smelting camp, and booking a weekend at a lakeside cabin.
A good rule before you get on any ice in Maine is to get some ice fishing maps for the ponds or lakes you plan on fishing on. These maps will give you am idea of the depth of the water and help you to better set up your camp. Safety should always be your first priority when ice fishing, and bringing a friend or more is always the best way to ensure you will not encounter a dangerous situation alone. Here is a list of the top 3 ice fishing destinations in the state of Maine.
Lakeside Lodge, Maine
Located in Sinclair Maine, Lakeside Lodge is one of the top ice fishing destinations in all of the state. If you are looking to set a record for the largest salmon you ever caught, this is the place you should be setting up your ice fishing camp. In addition to renting out a nice cozy ice shanty, you can even have the ice holes drilled for you. You can purchase live bait right on site and if you are interested in catching some muskie you can take a guided tour up the road to Glazier Lake.
Village Camps, Maine
Located in Forest City Township, Village Camps gives you the ability to ice fish in Spednic Lake and East Grand Lake. The cabin rentals all come with wood burning stoves to warm you up on those frigid evenings. There are snowmobiles available to get you to the shanties where you can purchase live bait for your adventure. In addition to ice fishing you can small game hunt too. The cost for the ice shanty is extremely reasonable at only $30 a day. You can upgrade for $45 more into a toasty warm cabin.
Birches Resort, Maine
Located in the city of Rockwood, Birches Resort is a one stop ice fishing destination for the enthusiast who wants a complete experience. Renting your ice shanty in a variety of different lakefront properties, all your fishing equipment, as well as a plane or snowmobile if needed. Whatever you need to rent you can get it all here for your adventure. The shanties start at around $50 a day and for additional $65 per person you can rent the plane to take you to some of the most remote ice fishing spots in this area of Maine.
Photo credit: CorpsNewEngland / Foter.com / CC BY-ND