Residential Plowing Tips for Long Maine Winters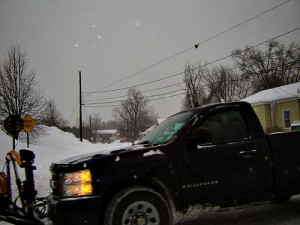 Snow plowing is a necessity in areas that experience snowfall. Roads and parking lots, as well as driveways must be cleared of significant depths of snow in order to facilitate safe driving. Plowing is usually performed with a 4 wheel drive truck capable of supporting the weight of a plow and pushing snow off the pavement. Snow can weigh anywhere from 15 pounds per cubic foot for light fluffy snow to more than 30 pounds per cubic foot for wet or compacted snow.
Plan for A Lot of Snow
Plowing snow is more than attaching a plow to the front of a truck and driving up and down the driveway. Legally, when plowing a driveway, the plow operator is not allowed to plow snow from private property onto public roadways. What that means for the operator is having enough room to plow the driveway and finding room enough to store the snow on the property. It may be necessary to plow the snow to one area, but hand shovel the pile to another area.
Hand Shoveling First Can Save Time
Avoid plowing snow toward access ways such as walks and doors. If that is the only alternative, it will be necessary to hand shovel the snow away from doors to provide access and egress in case of emergency. Walkways should also be clear for the same reason.
Locate and Plow from Edge to Edge
Plowing is accomplished more efficiently if the blade of the plow is adjusted right or left. It helps to spread the snow load and remove snow in longer stretches. Plowing straight on just allows the plow to build one giant snow mound that will become immovable.
Locate the edges of the driveway with snow markers. This will help the operator stay on course and not disturb the areas beyond the edge of the driveway, especially if it is a lawn or some other impervious material. If the driveway is a material other than pavement, be sure to plow with the blade lifted off the surface to avoid damaging the surface.
Check Local Laws for Safety Light Use on Plow Vehicles
Always use flashing safety lights when plowing, even in the daylight hours. An approaching driver will know the truck is working and not part of the traffic pattern. It is sometimes necessary for the plow to pull into the street to change directions before completing the task.
Start Plowing After 6 inches of Snowfall
Plow the driveway immediately after each snowfall. Waiting will allow the snow to freeze, especially if it has high moisture content. Frozen snow will make the task more difficult. For large snowfalls, such as a foot or more can be made easier if plowing is completed after every 6 inches of snow has fallen.
Photo credit: alandaviddoane / Foter.com / CC BY