The Top 3 Haunted Hayrides In Maine!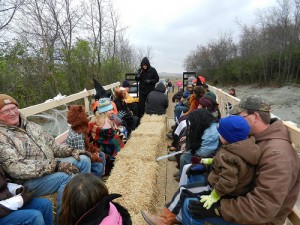 Haunted Hayrides! Nothing quite gives you the same reaction and feeling. The kind where you are excited but are somewhat terrified at the same time of taking a slow moving cart into a dark wooded area filled with unknown frights. Face it…part of the fun is being scared and here in Maine we have some great haunted hayrides.
Here are the top 3 haunted hayrides in the state of Maine.
1. Haunted Hayrides Maine
Boasting as the original haunted hayride, this operation based near Scarborough, Maine has entertained and frightened visitors for 22 years. The have snacks and beverages available and are open selected nights in October. Their number is (207)-885-5935 and more information can be found at http://www.hauntedhayridesmaine.com/
2. The Gauntlet
This attraction is located at Harvest Hill Farms in Mechanic Falls, Maine. This attraction starts of with a night ride ending with a haunted corn maze, not to be confused with the other corn maze they have meant to be less frightening. Children 12 and under must be accompanied by an adult. They are open Friday and Saturday nights in October dusk til 11 PM. Their number is (207)-998-3259 and their website is available for more information at http://harvesthillfarms.com/Gauntlet.html.
3. Halloweenfest
This attraction is located at the Maine Wildlife Park off of route 26. This attraction is only open for 2 nights; Friday October 18th and Saturday October 19th 2013, with doors opening at 6 PM. There are of course, haunted hayrides, but also there are a variety of different games complete with huge door prizes, contests, and a snack & souvenir shop for your convenience. Also, be sure to wear your costumes! Their number is (207) 287-8000 and their website can be accessed at http://www.maine.gov/ifw/education/wildlifepark/events.htm.
There you have it folks, the top haunted hayrides in the state of Maine. Also, note that the hayrides on this list are indeed ordered from greatest to least. In other words if you are looking for a thrilling and spooky hayride, your first option is your best bet. Have a fun and safe Halloween everybody!
Photo credit: USFWS Mountain Prairie / Foter / CC BY