The Economy and Wilderness Realty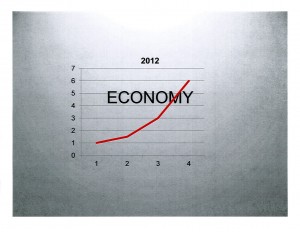 A little over a year ago, my economic post was cautiously upbeat.  How do we compare now?
The DOW is holding around the 13,000 mark as compared to 12,400 last year.  Unemployment is at a 3 year low, yet still above 8%.  Inflation, so far, is in check despite high gas prices.  Home values have bottomed out and in some places of the country, they are actually on the rise.
Based on these trends and others, the economy is still on a measured recovery.  This improvement seems to be analogous to a middle aged weekend warrior recuperating from an injured knee; slow and steady but still with pain and suffering.
Uncertainty is causing people to be very cautious with expenditures; especially discretionary spending.  This is not surprising given the political climate; the lack of confidence with both Congress and the President, an election year, unrest in the Middle East and high gas prices.
There does seem to be much "pent up energy" just waiting for the recovery to be more noticeable; then it will be like a tidal wave. 
When that happens, real estate prices will be going up.  This may be the perfect time to make that land investment.  Check out our current listings at www.wildernessrealty.com or visit us here in Maine for a showing AND enjoy the early Spring weather.