Panning For Gold In Maine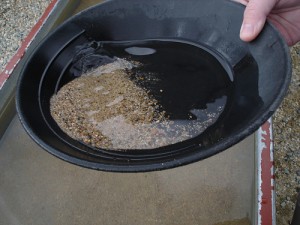 Maine offers some of the best place to pan for gold. One can often find large nuggets of gold while panning in the Swift River. There are several geological environments in Maine, where gold occurs, such as in bedrocks, sediments and stream deposits. Keep in mind you may not strike it rich, but you are sure to find gold flakes and small nuggets during your adventure. Panning for gold is a wonderful activity the whole family can enjoy.
Some of the best places to try your luck at panning include The Aroostook River, Bailyeyvile, Cherryfield and one of the most popular areas Coos Canyon. Located in Byron, Maine, Coos Canyon is one of the most popular spots to pan for gold. This beautiful, scenic gorge runs through the Swift River. While there, you may enjoy swimming and picnicking. While there, be sure to check out the Coos Canyon Rock And Gift Shop. There you will find the famous Big Nugget Book. The book is filled with photos of happy people proudly showing off their finds.Panning for gold requires no fancy equipment. A simple perforated tin pan works great. However for those who wish to enhance their chances at finding gold there are several things you can buy. Among them include a gold pan. A shovel is helpful for putting what you dig up into your pan. A shovel makes it easier to dig rather then using your hands. You may want to use a rock hammer and pick. These tools are great for getting gold pieces that are embedded in rocks and soil. A dirt scoop will help separate some of the heavy stuff before placing it in your pan. However, there is no need to buy an expensive scoop.
A regular, heavy duty cat litter scoop works just as well, is cheaper, and available at most stores. A magnifying glass will allow you to carefully look at your nuggets and flakes. This is helping in seeing flakes that may be stuck to rocks. A storage bottle, preferably made of plastic will allow you to store your findings in safely. A plastic one is less likely to break. You many find it helpful to use a funnel as well to safely get your flakes and nuggets into your container. A good pair of hiking boots will help you walk easier through all the rocks and dirt. Best of all have fun and enjoy the outdoors.