My Land For Deer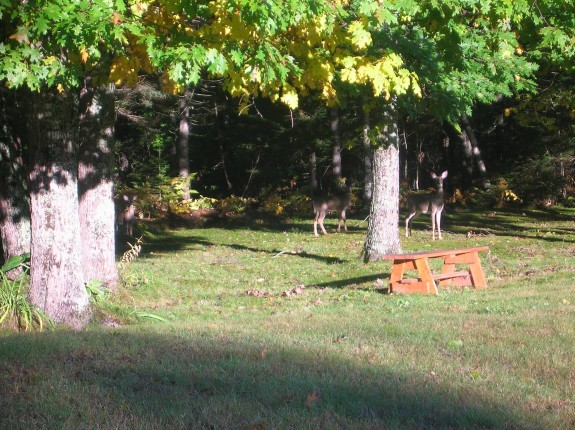 The wooded lands of Maine are prime habitat for white-tail deer.  The State is a prime destination for hunters in pursuit of this wily game animal.  Maine landowners have a perfect opportunity for improving deer habitat on their holdings.
The most obvious is to plant food plots.  A less apparent strategy but just as successful is timber stand improvement.  There are two approaches to encourage deer use of a property; favor mast producing tree species such as oak and beech or provide cover/shelter.
On my property in 1992, I did an over story removal on the west portion behind the house.  This site was cut fairly hard about 20 years prior.  There was plenty of both hardwood and softwood regeneration.  My 1992 cut helped thin out this understory.  Cutting the rest of the mature trees allowed more sunlight to reach this stand as well.  After 20 years the result is a thick stand of trees that is 10 to 20 feet tall; perfect hiding cover for deer.
Over the years I have been thinning smaller trees around my property for firewood favoring larger, mast producing oaks.  I have also left about 2 dozen large oaks in my yard around the house.  These trees produce acorns consistently over the years; with this year being an exceptional heavy crop.
As you can see from the pictures, a doe with twins are taking advantage of the free food.  They often arrive from behind the house from the thick cover to feed along the woods line under the oaks.  This particular doe raised a set of twin bucks last year.  The two showed up on my driveway this past June; one is a spike horn and the other is a 4 point.
With a little work, landowners can make improvements to their property which are beneficial to wildlife; and in this case the wily white-tail deer.