Moosehead Lake Land for Sale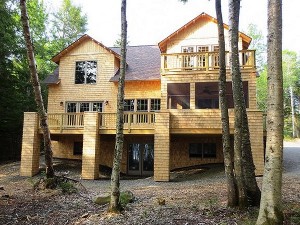 The Moosehead Lake region of Maine has many options for people looking to buy property. There is remote land for developing or land that already has your dream vacation home built on it. There is also plenty of waterfront property to choose from putting the best fishing and recreation at your door step.
Moosehead Lake is around 50 miles from end to end making it the largest lake in the state of Maine. This means there is plenty of room to have fabulous waterfront property and still have a private setting.
For example there is the newly built Chalet at Burnt Jacket on Moosehead Lake Maine. This 2,600 square foot chalet is located on lot S-10 on Moosehead's newest community. It sits on almost 2 acres of land boasting 336 feet of water frontage on Moosehead Lake.
The chalet itself is a 32'x42' foot cape with dormers and a daylight basement that can be finished to add more living space. The property is well landscaped and has mountain and island views. The main living area is open concept with exposed beam ceilings.
The chalet at Burnt Jacket is the ultimate vacation home where remoteness meets luxury. For further reading on the Chalet at Burnt Jacket click here.
The Chalet is not the only amazing property opportunity at Burnt Jacket in the Moosehead Lake region. If you are interested in all the options feel free to browse this site and get more information on the Burnt Jacket development.
Moosehead Lake land for sale can be remote wilderness property or it can be prime waterfront property. You can also shop for properties like Chalet at Burnt Jacket that have buildings already built or you can choose to develop your own.