Maine is a Perfect Place for Metal Detecting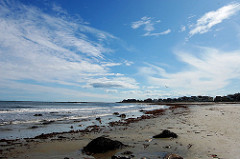 Metal detecting is a fun hobby with endless possibilities as to what you can find. Anything from coins to historic knives, jewelry, and even gold can be located by most metal detectors today, and some of them are just perfect for beginners. Maine is an amazing place for metal detecting since you can scour the beach, remote abandoned farm lands, high activity recreational areas and your own back yard since chances are the people who lived there 80 or 100 years ago left some trash to find.
Here are three high quality entry level metal detectors to get you started.
Garrett Ace 250
The Garrett Ace series is on the cutting edge of metal detectors today, and the Ace 250 is their best entry-level detector. This detector has a 6.5 X 9 inch coil, offering a scan area of 10 inches. It has an incredible depth range that can find objects as far down as 8 inches, and its pinpoint feature will tell you exactly what you're digging up before you do so. It has 5 search modes for those who are looking for specific metals, a notch system that can be used to reject objects you're not looking for, and a headphone jack that ensures you won't disturb others when you're looking for buried treasure.
Fisher F2
The F2 might have more advanced features, but it's also a great detector for beginners. There are 3 options to choose from, starting with the standard model with an 8-inch coil and going as far as the search coil combo, which has three different coils, a carry bag, and a pinpointer among other things. The coils are waterproof, there is a 4-tone audio system that tells you what you've found, a large LCD display for easy viewing, and all of this comes in at only 2.8 lbs, making it one of the lightest metal detectors on the market today.
Bounty Hunter Tracker IV
This detector is considered to be the best for beginners by many avid detector enthusiasts. The Tracker IV, like all Bounty Hunter detectors, has a fast learning curve, but it also has an 8-inch coil that can find small objects as deep as 8 inches or larger ones as deep as 3 feet. Both the coil and stem are waterproof, enabling you to find objects in creeks and small streams. It also contains a preset ground balance that can distinguish between coins and the natural minerals that occur in sand and soil, making this an excellent option in the most extreme soils. It uses 2 9-volt batteries and weighs only 3 lbs, an excellent option for new detector enthusiasts.