Glamping In Maine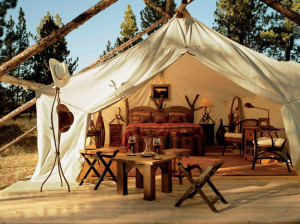 What exactly is glamping you ask? The term glamping is a combination of the two words glamour and camping. Imagine if you could put a luxurious hotel in the middle of the woods surrounded by nature. Only the walls that surround your bed is more like a canvas tent and less like four solid walls. Most places where you can go glamping have showers, running water, electricity, air conditioning, heat, Wi-Fi, and full queen beds with 1000 thread count sheets. That is the glamour part and the camping part consists of having fires, roasting marshmallows, fishing, hiking, walking on nature trails, the sound of crickets and loons on a nearby lake, water activities and sleeping among the wild animals surrounded by trees in a deep forest. So, where in Maine can you go glamping? We've done the research and here are our favorite places we've found.
Maine Forest Yurts, Durham, Maine
Maine Forest Yurts was started in 2009 by Bob Crowley, the 2008 winner of the reality TV show Survivor. Like glamping in a yurt in the Maine woods isn't cool enough! And these yurts really are beautiful! Maine Forest Yurts is located on a beautiful 100 acres on Runaround Pond. The yurts are fully furnished, have a wood stove, gas stove, kitchen, grill, bunk beds and futons. They are pet-friendly and family oriented. You can book your trip year-round and enjoy a number of activities from kayaking, canoeing, fishing, hiking, ice fishing, ice skating, cross country skiing and snowshoeing. They really have something for everything!
Sandy Pines Campground, Kennebunkport, Maine
Sandy Pines has uniquely designed tents for everyone! Each tent is 430 square feet and all of them have a kind sized bed, mini fridge, a sitting area inside and a deck with access to a shared bath house. Some of the tents have 10 x 12 teepees that are perfect for families. These 12 tents were individually designed by 1 of 12 New England interior designers. You'll be able to take your pick from any of the themed tents. You can stay in Base Camp, Coastal Comfort, Nautical Nights, Sea Grass, Wildflower Retreat just to name a few. They also have tent sites and RV sites.
If you love to camp in style or if you and you and your partner just can't decide between hotel service or camping in the woods, glamping would be a great compromise that everyone will enjoy!
Photo credit: Wicker Paradise via Foter.com / CC BY