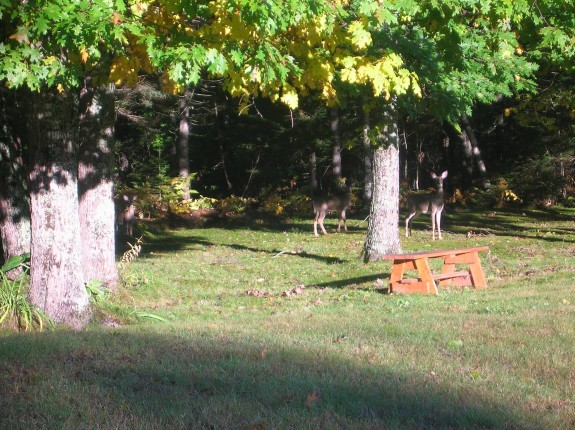 The wooded lands of Maine are prime habitat for white-tail deer.  The State is a prime destination for hunters in pursuit of this wily game animal.  Maine landowners have a perfect opportunity for improving deer habitat on their holdings.
The most obvious is to plant food plots.  A less apparent strategy but just as successful is timber stand improvement.  There are two approaches to encourage deer use of a property; favor mast producing tree species such as oak and beech or provide cover/shelter.
On my property in 1992, I did an over story removal on the west portion behind the house.  This site was cut fairly hard about 20 years prior.  There was plenty of both hardwood and softwood regeneration.  My 1992 cut helped thin out this understory.  Cutting the rest of the mature trees allowed more sunlight to reach this stand as well.  After 20 years the result is a thick stand of trees that is 10 to 20 feet tall; perfect hiding cover for deer.
Over the years I have been thinning smaller trees around my property for firewood favoring larger, mast producing oaks.  I have also left about 2 dozen large oaks in my yard around the house.  These trees produce acorns consistently over the years; with this year being an exceptional heavy crop.
As you can see from the pictures, a doe with twins are taking advantage of the free food.  They often arrive from behind the house from the thick cover to feed along the woods line under the oaks.  This particular doe raised a set of twin bucks last year.  The two showed up on my driveway this past June; one is a spike horn and the other is a 4 point.
With a little work, landowners can make improvements to their property which are beneficial to wildlife; and in this case the wily white-tail deer.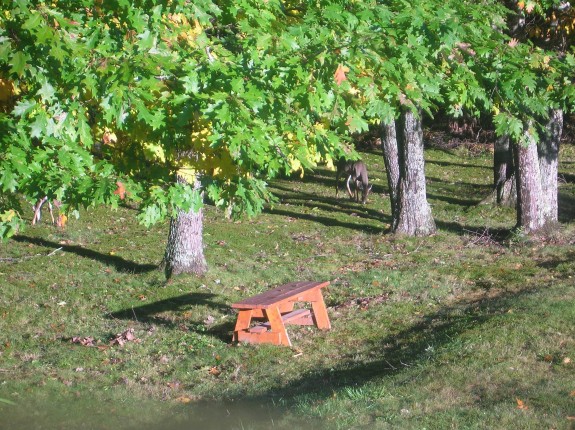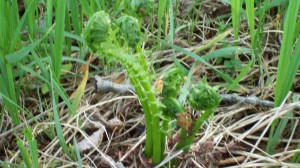 It's that time of year again; fiddlehead season!  This age-old Maine tradition traces its beginnings to the Native Americans whose progeny still gather the delectable greens each spring.
Fiddleheads are the unfurled fronds of the Ostrich Fern.  The fronds are picked just as they are emerging from the ground, still in their curled or partially curled stage; hence their namesake, they look like the curled end of a fiddle.  They are found in moist ground.  Sites associated with floodplains of streams and rivers are generally the most productive.
The customary method to prepare fiddleheads is by steaming or boiling.  First they need to be cleaned thoroughly; especially the papery, onion-like skin that loosely covers them. Cook until the desired tenderness; some folks like them a bit crunchy, others like them soft.  Another Maine tradition is to use vinegar as a condiment.  I prefer butter.  Don't be alarmed when you see the cooking water turn a dark brown; this is normal, just pour it away.
My property has a patch that I visit every spring.  Some of our listings with streams and rivers have this prized green growing on them (especially the Haynesville riverfront properties).  This is just another benefit of owning land in Maine.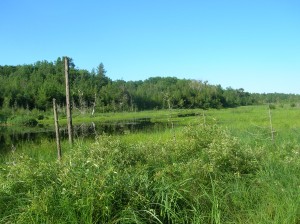 During a recent walk on my property, I decided to check out the beaver pond. I made my way to the dam with the idea of using it as a "bridge" to get to the other bank. When I was halfway across the dam, a movement caught my attention about ¾ of the way up the west bank. It was a hen wood duck exiting one of nest boxes that I put up years ago.
I was happy to see that it was being used for yet another year. One spring, a hooded merganser used it for a nest site. If you have a wetland on your property and like ducks, consider erecting a wood duck box or two. They are pretty simple to construct. The best time to put them out is in the winter when all is frozen over.
Just Google "wood duck box" and a host of sites will pop up. There are sites with plans, you-tube videos and general information regarding wood ducks and nest boxes. Be sure to put up predator guards; raccoons, in particular, will almost always raid them.
Another benefit of owning remote land in Maine is the opportunity to view wildlife; and in many instances up close and personal.  About a month ago, on a rainy Saturday afternoon, a flock of 20 turkeys strolled through my front yard and decided to hang out just into the woods.  After a few hours a few brave hens ventured over to the bird feeders.
The next day all 20 were at the feeders; but were very skittish.  They continued to visit daily and gradually calmed down so that we could look out the window without spooking them into the woods.  This gave me a chance to determine the composition of the flock: 1 mature tom, 3 jakes and the rest hens.
The ruler of the flock earned the moniker Tom T. Hall.  About 2 weeks after their arrival, Tom T. began to display and gobble to the flock.  The most dominate jake would puff up at times but would quickly fold when challenged by Tommy T.  A few days later, 9 of the hens left.  None of the jakes display now; only Tom T.
Their antics take place just outside our bedroom window where we have a "bird's eye" view.   We can even see the finest detail of their feathers.  Tom T. in particular is a marvel to behold; with his blue bald head and scarlet wattle, all puffed up with tail feathers fanned for the world to witness.
Wilderness Realty has land for sale in prime turkey habitat.  Feel free to visit our site and check out the Jackson, Burnham, Dexter, Solon, Fairfield and Norridgewock listings. I have spotted turkeys on all these properties.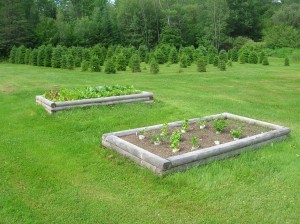 It has been a while since I posted under this category; actually it has been just over a year. I have been busy on the property; here is a short summary of the past year's activity.
This summer the vegetable garden was above average; despite the wet weather towards the later part of the growing season. Most everything produced well except the cabbage and cauliflower. Even had a few melons. The peppers were exceptional.
Last spring, we went out and picked two 5 gallon pails of pine cones that have dropped over the past winter. These were used for Christmas decorations, especially for the wreaths that my better half made this past holiday season.
Speaking of wreaths, she went out and picked several hundred pounds of "tips"; or more specifically fir branches, this fall. She made over 3 dozen wreaths for family and friends; all decorated with the pine cones, mentioned earlier, and a big red bow.
Also this fall, I cut 3 cord of firewood from the river side of my property. I hauled the stove-length wood with my ATV/trailer combo to my house. Extended a few more ATV and tractor trails as well. This weekend I should have the last 2 cords of tree length wood cut. I am hauling it with the tractor from behind the vegetable garden to the driveway. Then it needs to be cut and split.
Duck hunting this year was a bust. Lots of rain late summer into fall had the river up much higher than normal. When this happens, the ducks seem to disappear. According to my theory, there is so much water in the woods and the ducks simply spread out to these small pockets of water until freeze-up. Oh well, ducks win.
Finally, I sold a few Christmas trees this year. Gave a few away and cut one for the house. A nice fat, full one.
Such are the "perks" of owning a chunk of Maine land.