A major change to the U.S. tax code about the mortgage interest deduction may happen in 2013. A Republican congressman named Dave Camp from Michigan, held hearings in April about reforming the tax code to eliminate loopholes. Camp eluded to the fact that he would like to see a package of total tax reform by the end of the year.
It is figured that this reform measure will only benefit the upper income households. Will Fischer, author of a study calling for changes to the mortgage interest deduction and also an analyst at the Center on Budget and Policy Priorities, said that at least 77% of the mortgage interest deduction benefits went to homeowners making $100,000 of income or more. People who were middle and lower income earners did not get any benefits. This was about half of the people who had mortgages. It is estimated that only 30 percent of homeowners are taking advantage of the mortgage interest deduction on their taxes.
The tax deduction was first enacted in 1913. Some believe that the deduction is not bringing in 70 billion dollars in revenue to the government. They also believe that the tax deduction does nothing for assisting with the ownership of homes across the country, benefiting half of homeowners that are paying mortgage interest. The thinking now is to reform the tax deduction in order to bring the government more revenue while helping more people at the same time. The tax deduction may be converted into a tax credit instead.
Major proposals for reform promote a tax credit of 12 to 15%. The mortgage interest would most likely be limited at no more than $500,000 instead of the current amount of $1 million without tax credit for a second home. The National Association of Realtors say that converting the deduction into a tax credit will cause home prices to decline by 15%. They also stress that the deduction means a lot to homeowners, especially first time homeowners and those who have recently refinanced since they are paying more in interest than principle.
Photo credit: 401(K) 2013 / Foter / CC BY-SA
According to recent statistics in a south Florida market, here is more good news regarding real estate.  Compared to the first quarter of last year:  average sales price is up, median sales price is up, median list price is up, days on market is down significantly and inventory is down as well.  The conclusion; prices are up, inventory is down and more people are entering the market.
It is true that Maine is a much different environment that Florida, but consider this; Maine's real estate market has a high second home component just like in Florida.  In addition, Maine generally "follows the market" of the more populous regions of the country, such as south Florida. 
Furthermore, the stock market is on an upward tear even with continued unrest in the Middle East, uncertainty in the European financial markets and domestic violence in the US.  Because the real estate market was the primary cause of the Great Recession, it will take the other components of the economy to pick up real estate.  This seems to be happening; the real estate market is following the stock market.   
These signs point to the end of the Buyer's market here in Maine.  Demand will pick up, inventory will drop and prices will increase.  For those "Market Timers", the next 3-6 months looks to be the prime time to buy Maine property.
For quite some time now the US economy has been in the doldrums and consumer confidence has been low.  It was feared that it was moving toward a deflationary period similar to the events in Japan over the past 20 years.  Deflation happens when consumers hold off on major purchases in hopes that prices will continue to decrease.  The effect is a downward spiral.
Here are some economic expectations and news for 2013.
The Japanese yen is down when compared to the US dollar.  This may solve that country's persistent deflation problem.  Japan is the world's 3rd largest economy and its recovery from long term economic problems will have a positive impact on the global economy including the US.
Quantitative easing helps avoid deflation by putting money into the system.  This has been the Fed's strategy for the past several quarters.
Housing inventory should be about 4 months in a healthy economy; it is now at 4.3 months and is not such a drag on the country's financial system.
The stock market has nearly returned to pre-recession values.  Real estate values are up throughout a good portion of our nation.
Expectations are that the US economy will see increases in all areas throughout 2013.
Consumers who made asset purchases in the past few years are benefiting from healthy profits.  When the value of one's portfolio goes up one dollar, people have a tendency to spend between 2 and 5 cents on additional investments or large purchases.
It appears that a solid recovery will take place in 2013; falling values for stocks and real estate have already bottomed out and increases are now occurring and expected to continue for the rest of the year.
These notes were taken from a speech by Dr. Marci Rossell on March 11, 2013.

Looking for a free tool to calculate mortgages.  Visit Wilderness Realty and use the free mortgage calculator.  While there, feel free to browse our listings for prime recreation properties in Maine.  We have land for homes, cottages on lakes and timberland.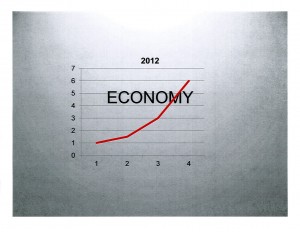 A little over a year ago, my economic post was cautiously upbeat.  How do we compare now?
The DOW is holding around the 13,000 mark as compared to 12,400 last year.  Unemployment is at a 3 year low, yet still above 8%.  Inflation, so far, is in check despite high gas prices.  Home values have bottomed out and in some places of the country, they are actually on the rise.
Based on these trends and others, the economy is still on a measured recovery.  This improvement seems to be analogous to a middle aged weekend warrior recuperating from an injured knee; slow and steady but still with pain and suffering.
Uncertainty is causing people to be very cautious with expenditures; especially discretionary spending.  This is not surprising given the political climate; the lack of confidence with both Congress and the President, an election year, unrest in the Middle East and high gas prices.
There does seem to be much "pent up energy" just waiting for the recovery to be more noticeable; then it will be like a tidal wave. 
When that happens, real estate prices will be going up.  This may be the perfect time to make that land investment.  Check out our current listings at www.wildernessrealty.com or visit us here in Maine for a showing AND enjoy the early Spring weather.