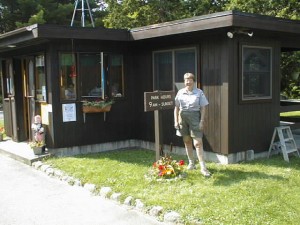 As a broker who specializes in selling Maine recreation land, I will sometimes have a customer with a question such as this: "Am I liable for someone who happens to be walking on my property, falls down and breaks a leg?"  The short answer is NO!
 Maine has very clear statutes that protect landowners from liability claims.  While browsing one of our advertiser's websites, The Maine Sportsman, I found an article by a now retired Maine assistant attorney general; which is the best, so far, that I have read regarding this issue.
 To read more, click on the following link:  http://www.mainesportsman.com/site/landowner-liability
Spring is my favorite time of year to look at Maine land.  This year's vernal season is shaping up to be very similar to that of 2010; which was warm, snow-free and dry.
Walking in the woods seems to be easier this time of year.  There are no leaves on the trees and bushes, the ferns have not yet sprouted, and the winter snows have compacted much of the brush; consequently, one's view through the forest is less obstructed.
Another benefit of being in Maine's spring time woods is the increase chance of observing wildlife.  For some reason the forest animals are less spooky.  It could be that most are preoccupied with mating or feeding after surviving the winter.  Most bird species are in their spectacular breeding plumage and the woods are alive with their various songs.
So far this year, Maine has been blessed with dry weather.  It has been a bit cool, so a light jacket and boots are necessary for a comfortable woodland hike.
If you are in the market, give us a call and make an appointment to look at one of our beautiful properties.  Break out the Spring gear and be ready for an invigorating walk in the woods and cure those winter blues.  Don't be a procrastinator, this special time will only last a few weeks at best.
My first April post last year hinted at an economic recovery from the previous year.  How has the market performed since then?
Well I am happy to report that the US economy is better now than it was 11 months ago.  The DOW is hovering around 12,400 as compared to under 11,000; consumer confidence has been steady and is slightly up from last April; personal spending, manufacturing and foreign markets are all up.  On the down side are home values which, however, are predicted to rise later this year.
When I made the report last year, I was hoping the numbers were more than just "wishful thinking".  Looking back, I can say things did get better.  What about the current numbers?  Personally, I feel better about the economy than I did last year.  Do not misunderstand me, things are not booming; but seem to be moving in the right direction.
A recent report indicates that more money is going into the stock market and at a faster rate than in the past few years.  For those looking to invest, consider land as another vehicle to diversify your portfolio.  Wilderness Realty has a great inventory with good deals.  We have added a considerable number of listings to our inventory this past Fall/Winter.  Check out our website or better yet call 207-947-7957 and make an appointment for a showing.
Buy land now before inflation hits!  I am not usually pessimistic and I certainly do not wish for higher inflation.  Unfortunately recent events in the financial arena do not bode well for this rather distasteful scenario.
For over a decade we have been blessed with low inflation especially when compared to the late 1970's.  The Federal Reserve has accomplished this by tinkering with interest rates.
Another Fed strategy to keep inflation at bay is to control the money supply.  The current administration is spending tremendous amounts of money at a never before seen historic high rate.  To account for this increased spending, the US government is printing money at an also never before seen historic high rate.  This has an effect of lowering the value of the dollar.
Over time this devaluation of the dollar will lead to inflation.  To counteract that, the Fed will increase interest rates; which generally have a negative effect on economic growth.
Under this scenario, prices for goods go up including land.  If you buy land now and inflation starts to increase in the future, so too will the value of your land investment.  This would be a good strategy to preserve the value of your money; turn your cash into land!  So instead of having a bunch of dollars losing value; you now have land increasing in value and in the future will be worth more dollars.
If inflation gets to be real bad, more people will buy land, which is a finite resource, and cause land prices to increase even more.  The sooner you become a landowner in the "inflation cycle" the better off you will be financially.
Although the current consumer mood is to hold back in these uncertain times, the continuing government spending spree and consequential increase in the printing of money makes a land purchase pretty attractive.
Granted, one does not need 78 acres to grow a vegetable garden; it is, however, an important use of my land.  We actually have 5 separate garden spots; there is the main garden which is approximately 70' x 25', a smaller 20' x 6' strip, a 10' x 10' winter squash garden and two 4' x 8' raised beds.
We grow a variety of produce which yields fresh veggies from early May to late October.  We start by planting one of the raised beds as early as possible with leaf lettuce, bibb lettuce, radishes, spinach, spring onions, Chinese cabbage and bok choy.  This bed can be covered to protect from frost and heavy rains.  We are eating from this spot first along with the perennial asparagus growing in part of the strip garden.  The other raised bed has dill and walking onions.  There is also additional space in the second raised bed to transplant lettuce, etc. from the first bed.
The other gardens are planted, weather permitting, by the first week of June.  The main garden has edible pod peas, potatoes, corn, cucumbers, pole beans, bush beans, carrots, red beets, onions, tomatoes, broccoli, cabbage and Brussels sprouts.  The strip garden has summer squash, cauliflower, hot & sweet peppers.  There are 4 varieties of winter squash growing in their separate spot.
We may also grow several varieties of each vegetable, for instance, there are three kinds of onions, two kinds of carrots, two kinds of potatoes etc.  We freeze, can, pickle, ferment and dehydrate our surplus veggies to carry us through until the next growing season.  Of course we are eating fresh produce as each comes into season.  Nothing like taking a stroll through the garden, picking what is ready and concocting a meal.  At this time of year (mid-summer) the possibilities are endless.
Even with all the preserving and eating, we still have extras.  This I give away to friends and family.  I know some people who sell the excess and make a little pocket change.  Others intentionally plant more than they can use in order to supplement their income.
Gardening is yet another viable use of MY LAND.