Raised Ranch on 29 acres in quiet country setting. This well-kept home sits over 400 feet from the Edinburg Road in Argyle Township. I-95 is 10 minutes away, Oldtown and the University of Maine are an easy commute while Bangor is less than a ½ hour drive. The area is sparsely populated and the taxes are LOW!
This 26' X 50' home sits on 29 acres. There is a detached 24' X 28' two car garage on a cement slab with power. There is a large garden area, two smaller ones, and two raised beds. The cleared area is over 1 acre and there is a small Christmas Tree farm. Behind the home, there is a trail that runs the perimeter of the property for over 6 tenths of a mile. A grove of large oaks completes the outside picture.
Inside there are three bedrooms and one bathroom. One of the bedrooms is currently used a sitting room. The remainder of the upstairs is open and includes the living room, kitchen and dining area. There are wood floors throughout the whole house except the master bedroom and entry stairs. The downstairs is unfinished and is wired for additional rooms.
The house has been heated primarily with a wood stove located in the basement. There is an oil fired forced hot air system in place as well. An enclosed screened in porch was added to the back of the home. It is a spacious 10' X 20' addition and is a great gathering spot in the Summer months.
This is a sturdy home that was built in 1990 by the broker. It would make a great homesite for a small family looking to live in a quiet country setting yet still an easy drive to the Oldtown/Orono/Bangor area. Make an appointment to see it today!
Listing Number: 141
Acres: 29
Water Access:
Price: $179900
For More Details:: Click Here

Go Here For Full Listing Details
This unique property has a nice building site on a high bluff overlooking Moosehead Lake. A walking path winds its way to a protected cove AND a deepwater point. Power is available. Great location in sleepy Beaver Cove, Maine.
Listing Number: 108
Acres: 1.59
Water Access: Lake Frontage||Water Frontage||Water Views
Price: $169000
For More Details:: Click Here
Go Here For Full Listing Details
Take notice of these 21 acres located in the rural countryside of Penobscot County. There is a 3 +/- acre field on the front portion of the property. A small stream flows through the parcel. Power and phone are available at roadside.
This property would make and ideal site for a home or cabin. It is located on Edinburg Road, aka Route 116, and it is 10 minutes to I-95, 20 minutes to Oldtown-Orono area and just under a half hour to Bangor. Its peaceful setting is home to a multitude of wildlife. It is not unusual to see a flock of turkeys or a deer feeding in the front field.
Whether you are looking for a place to build a home in the country or a hunting cabin with easy access, check out this property. You will not be disappointed!
Listing Number: 140
Acres: 22
Water Access: Stream Frontage
Price: $19900
For More Details:: Click Here

Go Here For Full Listing Details
UNDER CONTRACT
This is a rare opportunity to own a vintage Maine farmhouse with acreage. Downstairs there are two bedrooms, a kitchen, living room, bathroom, laundry room and sitting room. Unique to the property is that the water is provided by a public system. In addition, there are two enclosed porches. Upstairs is unfinished and can accommodate an additional 2-3 bedrooms. Attached to the house is a shed and large barn, both with plenty of storage space. A detached shed provides even more room to keep things out of the weather. The home is winterized and heat is provided by hot water baseboard powered by an oil furnace/boiler system.
This well maintained farm sits back a way from Pleasant Street on 77.5 acres and is accessed by a tree-lined driveway. There are large, mowed fields on either side with apple trees dotted about. To the back of the buildings is a small pond. When one pulls into the driveway, you get a sense of peace and serenity with a nostalgic look back to a long ago era.
In addition to the farm and fields is the woodlot. A narrow woods road winds its way through the interior of the property. Towards the front, there are several fields with apple trees scattered about. As one drives deeper into the woodlot, the forest gets denser with a heavy pine component.
Solon is a small community at the foothills of Maine's western mountains. The property is located on Pleasant Street a mile or so from the village center. There is plenty of recreational opportunities including fishing, hunting, boating and hiking. A snowmobile trail passes through the back portion of the land.
Real estate of this caliber does not hit the market very often. This particular property has been in a family ownership since the 1970s. Call now to find out more about this unique listing.
Listing Number: 139
Acres: 77.5
Water Access: Farm Pond
Price: $160900
For More Details:: Click Here

Go Here For Full Listing Details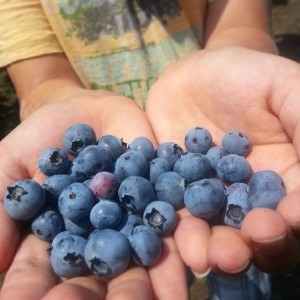 Blueberries in Maine
Every year people come to Maine to pick blueberries, wild or not they can be found all over the state and are enjoyed by locals and tourists. Blueberries are a superfood that can be enjoyed in smoothies, on yogurt, in a pie or all by themselves. They can be frozen and enjoyed in the cold winter months as well! Here you will find out when the best time to pick them is and where you can find them, both wild and grown by locals. We will also share the best way to freeze them!
Blueberry Hill Farm, Acton Maine
Here you will find highbush blueberries that can be picked from mid-July till September and sometimes even October! They are open every day from 8-5 as long as the berries are ripe. You can call 207.457.1151 to check before you make the trip.
Rupert Berry Farm, Turner Maine
Rupert's started out as having strawberry fields but over the years they have changed from growing strawberries to blueberries. The blueberries are high bush and only $2.00 a pound when you pick them yourself.  The owners are both a delight to chat with and will show you right where to go. They also have pick your own raspberries but those go fast so call ahead at 207.966.2721
Wild blueberries
Streaked Mountain, Buckfield Maine
Here you will have to work to get your berries! It's a quick, steep hike taking anywhere from thirty minutes to an hour depending what kind of shape you are in. But when you get to the top roam around, especially the back side of the tower on top to find the most berries. Don't forget to bring a Ziploc bag!
Mount. Pisgah, Winthrop Maine
Another quick hike that offers many patches of blueberries right along the top of the mountain. You can even find some right on the edges of the trails so keep your eyes open. You'll be even more rewarded once you climb the 60-foot fireman's watch tower with amazing views!
Once you have your berries picked you'll want to rinse them thoroughly under cool water.  Even if they are wild you'll want to rinse off any bugs and tiny twigs you might have picked. Next, you'll lay out the berries on a cookie sheet to dry for about an hour (If you were to rinse them and toss them in the freezer they would be a hard ball and impossible to cook with). You will then place the sheet of berries in the freezer for another hour. Once the berries are frozen you can put them in a freezer bag and use them for up to six months. They work great in smoothies and muffins!
Photo credit: Carrie Stephens via Foter.com / CC BY