2014 Maine Ice Fishing License Information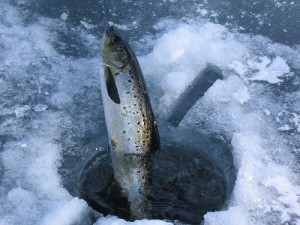 If a person plans on ice fishing in inland Maine waters or moving a fish that they retrieved from inland Maine waters they need to have a fishing license. Getting a Maine ice fishing license is the first step to being able to fish. Different licenses exist for people who are residents and non residents, the prices vary for every different kind. Once a person has license they must keep it on them when they fish or face fines for law violation if caught.
A person can get a Maine ice fishing license online at www.maine.gov and more specifically they should search for the Maine Online Sportsman Electronic System, also the Department of Inland Fisheries and Wildlife is located at 284 State Street 41 SHS Augusta, ME 04333-0041.
There are additional license agents throughout the state of Maine for Residents and Non Residents to visit to purchase their license needs. Typically the agents who are selling the ice fishing licenses will be at sporting good stores, convenience stores and they can be purchased at town clerks offices. An agent fee is added when using some license agents.
Prices for Resident Fishing Licenses (before agent fee):
-Superpack (16+) – $200.00
-Combination Fishing/Archery (16+) – $42.00
-Combination Hunting & Fishing (16+) – $42.00
-Resident Fishing (16+) – $25.00
-1-Day (24 hour) Fishing (16 & older) – $11.00
-Serviceman (resident) Fishing and Hunting (16+) – $3.00
-Serviceman Dependent Hunting (16+) – $10.00
-Serviceman Dependent Fishing and Hunting (16+) – $20.00
-Serviceman – Complimentary Military
-Supersport – $20.00
-Duplicate License – $2.00
A person is not a resident of Maine unless
-if registered to vote, registered in Maine;
-if licensed to drive a motor vehicle, made application for a Maine motor vehicle license;
-if owning a motor vehicle or vehicles located within the State, registered each such vehicle in Maine;
-complied with the State income tax laws; and
-if a full-time student at a Maine college or university, and satisfies above requirements.
Prices for Non Resident Fishing Licenses (before agent fee):
-Combo Hunting & Fishing (16+) – $149.00
-Nonresident Season Fishing (16+) – $64.00
-15-Day Fishing (16+) – $47.00
-7-Day Fishing (16+) – $43.00
-3-Day Fishing (16+) – $23.00
-1-Day Fishing (16+) – $11.00
-Junior Fishing (12-15 years) – $16.00
-Alien Combination Fishing and Hunting (16+) – $190.00
-Alien Season Fishing (16+) – $84.00
-Supersport – $20.00
-Duplicate License – $2.00
Resources: https://www1.maine.gov/ifw/licenses_permits/index.htm